ZINA T
OURS PORTU
GAL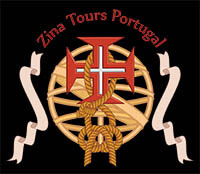 OFFICIAL TOUR GUIDE ZINAIDA BATRAKOVA
EXCURSIONS, PRIVATE TOURS AND TOUR GUIDE SERVICES
37-COIMBRA - CITY AND UNIVERSITY

The first capital of the Kingdom of Portugal. The "student city" and the oldest university in Portugal, founded in 1290.
38-PORTO AND GAIA - CITY AND DOURO RIVER

One of the oldest cities in Portugal, crossed by the majestic Douro River. Wine cellars of Port and schist valleys with vineyards along the river.
39-BRAGA - CITY

The so-called "City of Archbishops" founded by the Romans and its medieval cathedral of the centuries XII-XVI.
40-GUIMARAES - CITY

An ancient city that has maintained a medieval appearance. The capital of the "Portucalense County" that gave rise to the birth of the Kingdom of Portugal.
41-EVORA - CITY

One of the oldest cities in the country that has preserved a medieval appearance.
42-ESTREMOZ - CITY

City founded by the Templars in the 12th century. Medieval fortress and marble quarries.
43-VILA VIÇOSA - VILLAGE

Former provincial city of Portugal, where Paço Ducal is located, which was built in marble, in the 16th-18th century.
44-SAGRES - FORTRESS

Sagres is a village but it was a fortress in the south of the country. It was Infant Henry's Navigation School, "The Navigator" at the time of the Discoveries.
45-VILA REAL DE SANTO ANTONIO - BEACHES

Endless beaches of temperate water. Castro Marim Castle became one of the strongholds of the Templars and the Knights of Christ in the south of Portugal.
Copyright © 2023 - Zina Tours Portugal - Зина Туры Португалия