ZINA T
OURS PORTU
GAL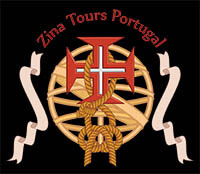 OFFICIAL TOUR GUIDE ZINAIDA BATRAKOVA
EXCURSIONS, PRIVATE TOURS AND TOUR GUIDE SERVICES
13-LISBON - ELECTRICITY MUSEUM

First power plant in Lisbon transformed into a museum with old machinery and interactive exhibitions.
14-LISBON - BASILICA OF ESTRELA

Catholic temple from the late 18th century. One of the best examples of Portuguese Baroque.
15-LISBON - CALOUSTE GULBENKIEN MUSEUM

Private art collection from around the world; from Mesopotamia to Art Nouveau.
16-LISBON - NATIONAL MUSEUM OF TILES

Different styles of tiles. Panoramic panel of tiles of the city before the earthquake of 1755 with 60m in length.
17-LISBON - OCEANARIUM

With 1000m2 of exhibition area and a tank with 5000m3 of water with more than 500 different species of flora and fauna from all oceans.
18-SINTRA - VILLAGE
Wonderful village! The summer residence of Portuguese monarchs with unique palaces and parks.
19-SINTRA - NACIONAL PALACE

Summer palace of the 14th-16th century. The oldest to survive in the Iberian Peninsula.
20-SINTRA - PENA NACIONAL PALACE
The best Romantic style monument in Europe, on top of a hill in the Sintra mountains.
21-SINTRA - REGALEIRA ESTATE

Park of wonderful beauty, with small palace and chapel in Neo-Manueline style, which keeps many mysteries and symbolisms. Esoteric, mystic and alchemy!!!
22-SINTRA - MONSERRATE PALACE AND PARK

The beauty of oriental architecture in combination with an English style with a landscape of a park with many plant species (19th century).
23-SINTRA - CONVENT OF THE CAPUCHOS

A clear example of austere 16th century monastic life. Small stone rooms; the fusion of man with nature.
24-SINTRA - QUELUZ NACIONAL PALACE

18th century palace in Baroque, Rococo and Empire style with luxurious gardens, lakes with fountains and a canal with banks decorated with tiles.
Copyright © 2023 - Zina Tours Portugal - Зина Туры Португалия