ZINA T
OURS PORTU
GAL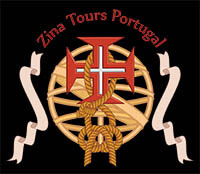 OFFICIAL TOUR GUIDE ZINAIDA BATRAKOVA
EXCURSIONS, PRIVATE TOURS AND TOUR GUIDE SERVICES
25-SINTRA - ROCA CAPE

The westernmost point of mainland Portugal and continental Europe, beautiful cliffs and rough seas. An old lighthouse and a feeling of the ocean around you.
26-ESTORIL AND CASCAIS - COAST

Summer villages and also of fishermen on the Portuguese Riviera. The beauty of its beaches bathed by the Atlantic Ocean.
27-MAFRA - PALACE AND CONVENT

The largest UNESCO monument in Europe. The era of a prosperous Portugal. Royal Library.
28-АLMADA - CHRIST THE KING

A symbolically important and beautiful place. An excellent place with panoramic views overlooking Lisbon, Belém, the Tagus River and the Atlantic Ocean.
29-PALMELA - CASTLE AND CELLARS

Castle from the 12th-18th century on top of the cliff, now transformed into an old inn and surrounded by vineyards with some grape varieties typical of the region.
30-SETUBAL AND SESIMBRA

An old fishing village with a long history and traditional coastal summer village with a beautiful beach and with good restaurants of fish and seafoods.
31-FATIMA - SANCTUARY

A very important place of Christian pilgrimage and of great importance in the history of Portugal.
32-BATALHA - MONASTERY

The most beautiful Gothic monument in the country in the 14th-16th century. The first Royal Pantheon and the tomb of Infant Henry, "The Navigator".
33-ALCOBAÇA - MONASTERY

One of the largest monastery complexes of the 12th-18th century. The tombstones of Pedro and Inês de Castro and the story of the posthumous queen of Portugal.
34-NAZARE - VILLAGE

Fishing and summer village in central Portugal. 1st century AD shrine. Praia do Norte is ideal for surfers with giant waves that sometimes reach 30m.
35-OBIDOS - CASTLE AND VILLAGE

The City of Queens of Portugal. One of the country's historic cities that has preserved a medieval appearance to this day.
36-TOMAR - CONVENT OF CHRIST AND CITY
Monument to the history of the Templars of Portugal in the 12th-17th century. Synagogue of the century XV.
Copyright © 2022 - Zina Tours Portugal - Зина Туры Португалия