ZINA T
OURS PORTU
GAL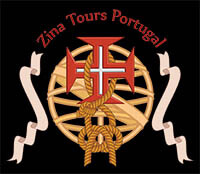 OFFICIAL TOUR GUIDE ZINAIDA BATRAKOVA
EXCURSIONS, PRIVATE TOURS AND TOUR GUIDE SERVICES
13-LISBON - ELECTRICITY MUSEUM

First power station in Lisbon turned into a museum with old machinery and interactive exhibits.
14-LISBON - BASILICA OF ESTRELA

Church of the 18th century. One of the best examples of Portuguese Baroque.
15-LISBON - CALOUSTE GULBENKIEN MUSEUM

Private collection of art from around the world; from Mesopotamia to Art Nouveau.
16-LISBON - NATIONAL MUSEUM OF TILES

Different styles of tiles and a glazed panoramic panel of the city before the earthquake with a length of 60m.
17-LISBON - OCEANARIUM

With an exhibition area of 1000m2 and a water tank with 5000m3.
18-SINTRA - VILLAGE

Beautiful village! The summer residence of Portuguese monarchs with unique palaces and parks.
19-SINTRA - NACIONAL PALACE

Summer palace of the 14th-16th centuries. The oldest to survive in the Iberian Peninsula.
20-SINTRA - PENA NACIONAL PALACE

Best monument in the style of Romanticism in Europe, on top of one of the Sintra hills
21-SINTRA - REGALEIRA ESTATE

XXX
22-SINTRA - MONSERRATE PALACE AND PARK

XXX
23-SINTRA - CONVENT OF THE CAPUCHOS

XXX
24-SINTRA - QUELUZ NACIONAL PALACE
XXX
Copyright © 2019 - Zina Tours Portugal - Зина Туры Португалия